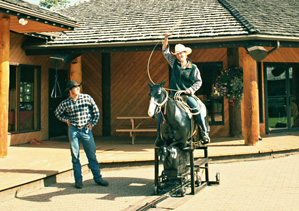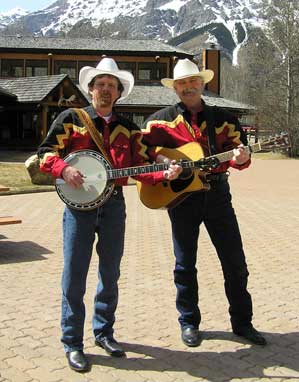 Boundary Black Hatter
Welcome your people with the true Western Welcome! We'll provide the hats – full range of styles and prices available. Guests will be sworn in as Honorary Citizens of beautiful Kananaskis with a keepsake to take home. Boundary black felt hats, white straw hats and other assorted styles as well as bandanas, bolo ties and logoed clothing and other items are available.
Lonesome & Lester
The best trained roping horse on the Ranch! This model horse and calf team is the closest thing to real calf roping you can get. Give Lonesome a kick and out wheels Lester to be roped! Challenging and fun for all those city slickers who 'wanna be' cowboys!
Chuck's Chucks
A hilarious group event whether you are one of the racers or just watching! Three teams of four people – two 'horses' to pull the wagon, one 'driver' to ride in the wagon and one 'brakeman' on the rope at the back end, race the traditional 'Figure 8' course.
Line Dance Instructors
They start with the most basic line dances and after the crowd gets going, move on to the more challenging dances. Your folks will catch on quickly and you will be amazed at the participation!