Music & Entertainment
Music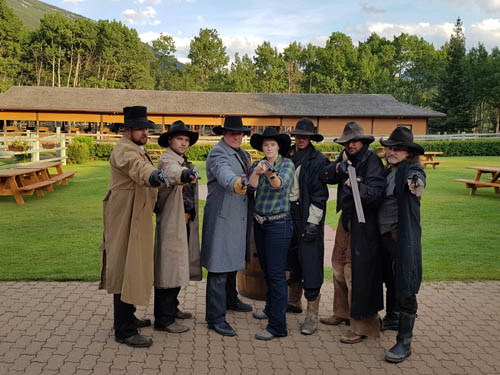 Live music such as:
Single Guitarist and Vocalist
Country and Western Bands
Label Bands
DJ Services
Calgary Fiddlers
Karaoke
Bus Buster
Think back to the golden era of the cowboy when riding a stagecoach was an exciting but dangerous experience in the Old West. As your bus enters the Ranch Road, keep an eye out for the "Boundary Bad Bunch". Dressed in their very worst, the "Bad Bunch" ride out and stop your bus at gun point. These rotten scoundrels will climb aboard to round up one poor "good guy" and abduct him or her to ride off into the sunset. Just like in the movies, the "good guy" always prevails, and will be returned safe and sound after the group unloads with ample opportunity for photos. Available seasonally from May to October.
Gunfight at the Boundary Corral
Surprise your guests with a window rattling, down and dirty gunfight staged during your event. This professional troupe of "Gunfighters" will keep your crowd entertained and in suspense as they threaten to hang one of your folks! A knockdown, drag 'em out, interactive 30 minute show guaranteed to enthrall the crowd.
Photo Opportunities
Cowboys, cowgirls, and horses are available for background photo opportunities.
Trick Ropers
Watch our cowboys show off their rope handling skills. This dazzling display of talent is sure to delight, amuse, and entertain.

Have we missed something? If you haven't found what you are looking for on our website, let us know. The diverse facilities at Boundary Ranch allow us to accommodate almost any request. From family-friendly Comedians to Hypnotists with an adult sense of humour, Electronic Gaming Systems to Contortionists, we are happy to include whatever entertainment you and your audience are looking for.

Each group is unique, so please contact us about customizing your visit.

Boundary Ranch operates year round, however some activity options may be seasonal. Please note that some activities have minimum or maximum participant numbers.

A facility fee for entertainment or activities not booked through Boundary Ranch will apply. Please see Group Policies for further details.

-->