Wild West Rodeos
A great way for your guests to enjoy a Wild West Rodeo up close is to stage a show exclusively for your group!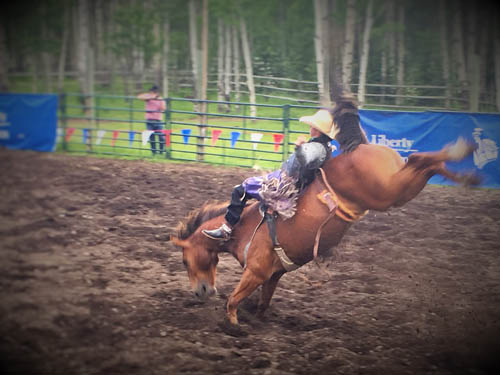 Boundary Ranch produces a private Wild West Rodeo right here on our rodeo grounds. Guests are escorted to the Rodeo Arena by horse-drawn wagon, directed into our covered grandstand, and tossed beer and peanuts by our cowboys during the show.
The action begins with a Grand Entry Parade followed by Bareback Broncs, featuring the up and coming Bronc Riders from the area. The Rodeo Clown risks life and limb to make sure the cowboys have a safe and successful ride. The excitement continues with several Barrel Racers, racing against the clock to bring home a prize! The Saddle Bronc riders are next with some of the fiercest and most ferocious bucking horses around, followed by another round of Barrel Racing. The finale is the exciting Bull Riding, with riders battling to stay aboard 2000 pound bucking and twisting bulls for the required 8 seconds. The Rodeo Announcer gives the show a professional touch with his knowledgeable commentary and some well placed humor.
Two Wild West Rodeo options are available:
Four Event Rodeo which includes Bareback Broncs, Saddle Broncs, Barrel Racing, and Bull Riding (approximately a one-hour show)
Six Event Rodeo which includes Bareback Broncs, Saddle Bronc, Barrel Racing, Calf Roping, Steer Wrestling, and Bull Riding (approximately a one hour and forty-five-minute show)
Consider including an additional attraction to the list of events; the Hobbyhorse Barrel Race gives your folks the opportunity to participate in the action and generates humor and excitement as the crowd cheers for their favourite rider in this interactive event.

All the action takes place right here at Boundary Ranch, often taking place before a barbecue dinner in lieu of a cocktail hour.

Contact us for more details or to book a Wild West Rodeo for your group.

-->