Music
Live music such as:
Single Guitarist and Vocalist
Country and Western Bands
Label Bands
DJ Services
Calgary Fiddlers
Karaoke
Bus Buster
Think back to the golden era of the cowboy when riding a stagecoach was an exciting but dangerous experience in the Old West. As your bus enters the Ranch Road, keep an eye out for the "Boundary Bad Bunch". Dressed in their very worst, the "Bad Bunch" ride out and stop your bus at gun point. These rotten scoundrels will climb aboard to round up one poor "good guy" and abduct him or her to ride off into the sunset. Just like in the movies, the "good guy" always prevails, and will be returned safe and sound after the group unloads with ample opportunity for photos. Available seasonally from May to October.
Gunfight at the Boundary Corral
Surprise your guests with a window rattling, down and dirty gunfight staged during your event. This professional troupe of "Gunfighters" will keep your crowd entertained and in suspense as they threaten to hang one of your folks! A knockdown, drag 'em out, interactive 30 minute show guaranteed to enthrall the crowd.
Photo Opportunities
Cowboys, cowgirls, and horses are available for background photo opportunities.
Trick Ropers
Watch our cowboys show off their rope handling skills. This dazzling display of talent is sure to delight, amuse, and entertain.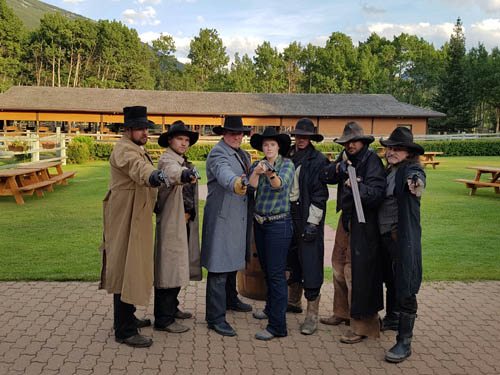 Have we missed something? If you haven't found what you are looking for on our website, let us know. The diverse facilities at Boundary Ranch allow us to accommodate almost any request. From family-friendly Comedians to Hypnotists with an adult sense of humour, Electronic Gaming Systems to Contortionists, we are happy to include whatever entertainment you and your audience are looking for.
Each group is unique, so please contact us about customizing your visit.
Boundary Ranch operates year round, however some activity options may be seasonal. Please note that some activities have minimum or maximum participant numbers.
A facility fee for entertainment or activities not booked through Boundary Ranch will apply. Please see Group Policies for further details.
Jennifer
Hunter Valley, Australia
Great location, great food, very friendly staff. Will definitely recommend to family and friends.
The Nappers
Ontario
We had so much fun. My kids had never been on a horse before and they loved it. Thank you so much for such a good time.
The Greets
Belgium
Great trip, beautiful view, friendly people, nice horses. We enjoyed it here! Thank you.
Kelsey & Brian Atamanchuk
Beaumont, AB
We had tons of fun, great horses and great scenery.
Linda Hunter
England
Great ranch, Great food, Great people!
Thornton Family
Antler Lake, AB
Fantastic family experience. Thank you!!
Maggie
Queensland, Australia
A truly magical place!
Angela Hockley
Calgary, AB
This is a perfect way to spend a fall morning!
Daniel and Simonne Fraser
Blackstone, MA, USA
Loved this place so much!!
Foley Family
This is a perfect getaway from the city for a family day!
Sam Prior
Thanks to all at Boundary Ranch for a great holiday (vacation). We come from Montreal, Quebec not knowing what to expect and we had a real rocking holiday (vacation to you dudes).
Stephane Cote
Can't wait to go ride your beautiful horses again.
Brian Norg
What a wonderful experience! Did the 2 hr ride, was a great mix of level and tricky trail riding with great scenery. Loved the great steak lunch after the ride. Great job done by all!
Radu Luchian
Great beginner horseback riding experience. The horses are well behaved, the staff is friendly and accommodating, food's great. The trail, however, is mostly on forested paths, with only one clearing available to admire the wonderful mountain views; there's no freeriding available, even in the corrall; if you want to hear the running commentary from the trail leader, you need to be in the front 2-3 positions.
Arash Zarimani
This is a very easy to find ranch and it is very clean and well organized. We did a full day trip with our guide, Nick. The trail and the views were breath taking. We were able to see deers and also some grouse birds. I highly recommend this ranch to all people regardless of your riding experience.