Activities for 'Lil Dudes
Pony Rides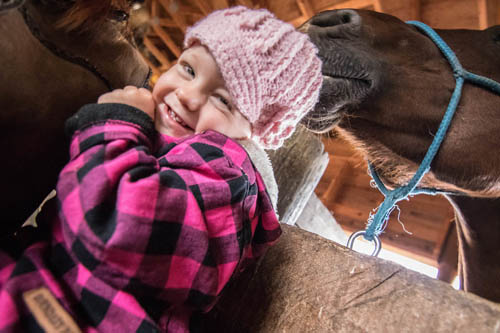 For little buckaroos, Boundary Ranch offers hand-led Pony Rides. One of our staff will hand-lead a specially chosen four-legged companion while your aspiring cowboy or cowgirl experiences meeting a horse and having the opportunity to sit on one. Pony rides offer just enough time to take photos and for your youngster to connect with their steed and the outdoors.
Petting Zoo
Bring on the party animals! We bring the farm to the ranch including a variety of huggable, child sized critters such as lambs or sheep, chicks, bunnies, a calf, a piglet or two, and a milking goat and kids (the four-legged type). This fun and interactive experience is one your youngsters are sure to enjoy and remember.
Hobby Horse Races
Participants "ride" their trusty Hobby-Horse steeds in the same cloverleaf pattern barrel races take in rodeo events and race to see who can run the fastest. Folks have the opportunity to participate in rodeo-style action, and generate humor and excitement as the crowd cheers for their favourite rider in this interactive event. A great activity for all ages.
Entertainers
Add an exciting dynamic to your event with family-friendly entertainers such as clowns, stilt walkers, magicians, or Santa Claus!

Have we missed something? If you haven't found what you are looking for on our website, let us know. The diverse facilities at Boundary Ranch allow us to accommodate almost any request. From Arts & Crafts to Bouncy Castles, Electronic Gaming Systems to Face Painting, we are happy to include whatever entertainment you and your young audience are looking for.

Each group is unique, so please contact us about customizing your visit.

Boundary Ranch operates year round, however some activity options may be seasonal. Please note that some activities have minimum or maximum participant numbers.

A facility fee for entertainment or activities not booked through Boundary Ranch will apply. Please see Group Policies for further details.

-->