Iggy the Donkey
A special appearance to include in your group activity. Everyone loves Donkeys! Spend close-up time with Iggy, and you will quickly understand why everyone loves these clever animals. Experience hands on interactions including patting and hugging Iggy. Have a friend and your BIG SMILES ready to capture this special moment.
Line Dancing
A local favourite and a terrific way to get everyone on the dancefloor! Great fun for groups of any size, learning is easier than you think, and no partner required. Our experienced instructors start with the most basic line dances. Once the crowd has warmed up, we move at your pace to more advanced choreography and the latest line dancing trends.
Lonesome & Lester Calf Roping
The best trained roping horse on the Ranch! This mechanical rig is the closest thing to real calf roping you can experience without live animals. Give Lonesome a kick and Lester wheels away—can you rope him? A fun and challenging activity for all those city slickers who want to practice their cowboy skills.
Chuck's Chucks
An active and entertaining group event whether you are participating or watching from the sidelines. Each team of four chooses two "horses" to pull the wagon, one "driver" to ride in the wagon, and one "brakeman" on the rope at the back end. Three teams per heat race the traditional figure-eight course, and hilarity ensues. Recommended for groups of 8 to 50 participants.
Pony Hops
Giddy Up with our Inflatable Bouncing Horses great for kids and adults of all ages! This crazy horse race for both indoor and outdoor events is filled with lots of laughter and fun! Add these to any event to have a blast with memories to last, a definite hit with most crowds!
Chili Cook-Off
Fire up the camp stoves, 'round up your team, pick your special ingredient, and get cooking! It's the Chili Cook-Off with the meanest cook in the west. Coming straight out of the back country for this event, our wranglers definitely know their way around a chili pot! Be sure to inquire about the addition of one of Boundary Ranch's chili tasting judges. A fun and engaging way to get your event guests creating and working together. The best part is that participants get to taste the finished product! This activity is ideal for smaller groups up to a maximum of 60 guests.
Drumming
Drum Circles are an engaging and interactive activity that promote collaboration, communication, respect, and focus within your group. This activity is lead by a professional facilitator who will create a fun, safe, and supportive environment for your guests to feel empowered and work together. No experience is required, and drums from around the world are provided for each participant.
Dreamcatcher Making
Were traditionally used as talismans to protect sleeping people, usually children, from bad dreams and nightmares. Native Americans believe that the night air is filled with dreams both good and bad. We will provide you with the tools and supplies to make your very own! An authentic souvenir to take home.
Birds of Prey
Admire and interact with some of Alberta's most majestic birds of prey species. Meet owls, hawks, falcons, and eagles from a local rescue organization, watch a spectacular demonstration of their unique abilities, and learn how you can make a positive difference for these incredible creatures. Content can be tailored to the interests and orientation of your group, and is suitable for guests of all ages. Photo opportunities available.
Snowshoeing
Embrace the feeling of walking across the thick snow pack instead of through it. Snowshoes are easy to put on and walk in, making this activity suitable all ages and abilities. While we journey we will teach you about winter survival skills, local history, traditional wild edible and medicinal plants of the valley's First Nations people. All, in the quiet and serenity of Kananaskis' snow covered forests. Snowshoes included in tour package. (Snowshoe only rental options available)
Boundary Black Hatter
Welcome cowfolks with a true western tradition! Guests will be sworn in as Honorary Citizens of beautiful Kananaskis Country with a keepsake Cowboy Hat to take home. Boundary black felt hats, white straw hats, and other assorted styles are available, as well as bandanas, bolo ties, and logoed clothing to complete the ensemble. Pricing is based on group numbers, and we offer a full range of styles and price points.
Complimentary Ranch Activities
Boundary Ranch welcomes you to play a game of Bocce Ball, Volleyball, Frisbee, or toss some Horseshoes at no extra expense. Engage your guests with one of our complimentary activities and enjoy the natural setting in our beautiful mountain valley.
Each group is unique, so please contact us about customizing your visit.
Boundary Ranch operates year round, however some activity options may be seasonal. Please note that some activities have minimum or maximum participant numbers.
A facility fee for entertainment or activities not booked through Boundary Ranch will apply. Please see Group Policies for further details.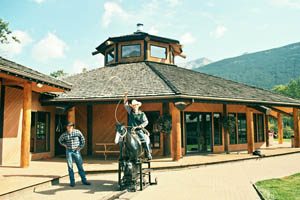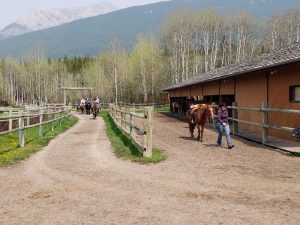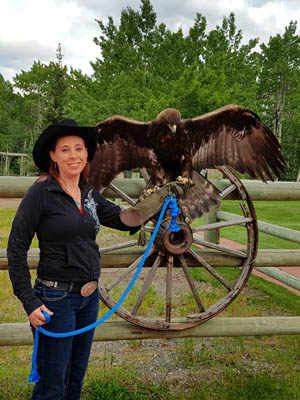 Jennifer
Hunter Valley, Australia
Great location, great food, very friendly staff. Will definitely recommend to family and friends.
The Nappers
Ontario
We had so much fun. My kids had never been on a horse before and they loved it. Thank you so much for such a good time.
The Greets
Belgium
Great trip, beautiful view, friendly people, nice horses. We enjoyed it here! Thank you.
Kelsey & Brian Atamanchuk
Beaumont, AB
We had tons of fun, great horses and great scenery.
Linda Hunter
England
Great ranch, Great food, Great people!
Thornton Family
Antler Lake, AB
Fantastic family experience. Thank you!!
Maggie
Queensland, Australia
A truly magical place!
Angela Hockley
Calgary, AB
This is a perfect way to spend a fall morning!
Daniel and Simonne Fraser
Blackstone, MA, USA
Loved this place so much!!
Foley Family
This is a perfect getaway from the city for a family day!
Sam Prior
Thanks to all at Boundary Ranch for a great holiday (vacation). We come from Montreal, Quebec not knowing what to expect and we had a real rocking holiday (vacation to you dudes).
Stephane Cote
Can't wait to go ride your beautiful horses again.
Brian Norg
What a wonderful experience! Did the 2 hr ride, was a great mix of level and tricky trail riding with great scenery. Loved the great steak lunch after the ride. Great job done by all!
Radu Luchian
Great beginner horseback riding experience. The horses are well behaved, the staff is friendly and accommodating, food's great. The trail, however, is mostly on forested paths, with only one clearing available to admire the wonderful mountain views; there's no freeriding available, even in the corrall; if you want to hear the running commentary from the trail leader, you need to be in the front 2-3 positions.
Arash Zarimani
This is a very easy to find ranch and it is very clean and well organized. We did a full day trip with our guide, Nick. The trail and the views were breath taking. We were able to see deers and also some grouse birds. I highly recommend this ranch to all people regardless of your riding experience.