Groups and Corporate Events
Welcome to
the real west!
Located in the midst of the beautiful Kananaskis Valley, Boundary Ranch provides a spectacular setting for group events, corporate meetings, and rejuvenating retreats. With space for groups up to 1000 participants, we are happy to customize your visit to meet your group's needs and interests.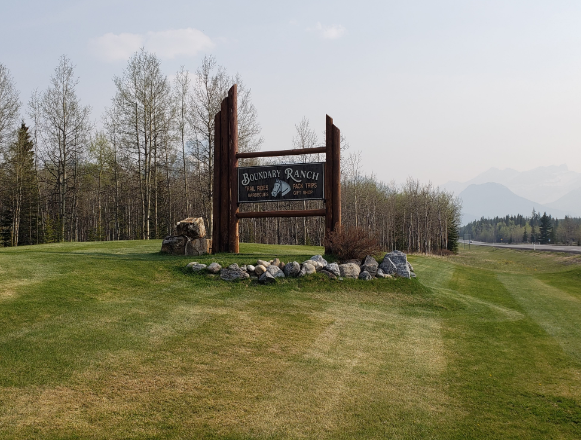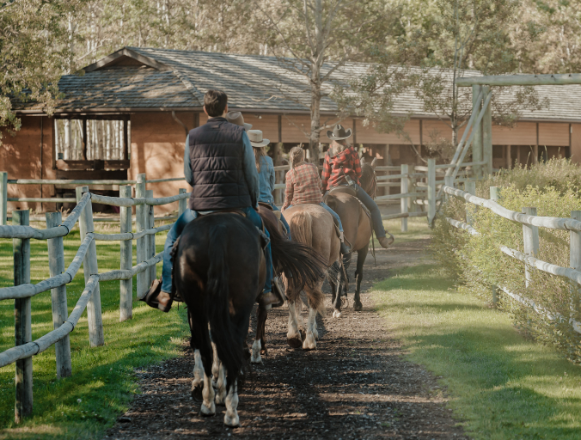 Boundary Ranch offers western hospitality
at its finest, and there is always an abundance to see and do. Hop on a Horse Drawn Wagon Ride, take a scenic Trail Ride, or host a private Wild West Rodeo. Watch the cowboys and cowgirls working with the horses in the Boundary barn, play horseshoes, or learn a line dance. Choose from our many activities to construct an itinerary that meets your unique needs and that will inspire your guests.
Group Event facilities include charming log and cedar lodges, a comfortable cafe, as well as patios and outdoor spaces. Our Lunch and Dinner menus have been developed to offer a tasty and traditional western BBQ experience. Guests will enjoy the atmosphere of Boundary Ranch and the picturesque views of the Kananaskis Valley in the Canadian Rockies.
Bring the folks out to the Ranch for a productive and exhilarating meeting in the mountains. Spend your breaks networking outdoors in the mountain air, enjoy a coffee cozied up to the fireplace in your meeting space, or build a cohesive team culture bonding over a shared adventure. Boundary Ranch provides a fresh and unconventional approach to business meetings, retreats, or team building sessions. Coffee and snack services are available.
Come for work but stay for adventure! For those that work hard and play hard, a half-day of seminars followed by an afternoon of recreation is a great combination. Consider a program including a team building session or combine with one of our many ranch activities for a truly memorable and constructive experience for the individual and the group.
Join us at Boundary Ranch for some western hospitality and a real ranch experience. On arrival, we can greet your bus with cowboys on horseback. Friendly staff will be waiting to meet you and give folks a quick rundown of their upcoming adventure.
Compliment your visit with a hearty steak barbeque, a wagon or sleigh ride around the Ranch, or some light entertainment, and conclude the day in traditional backcountry style day around the outdoor fire circle with roasted marshmallows or campfire s'mores.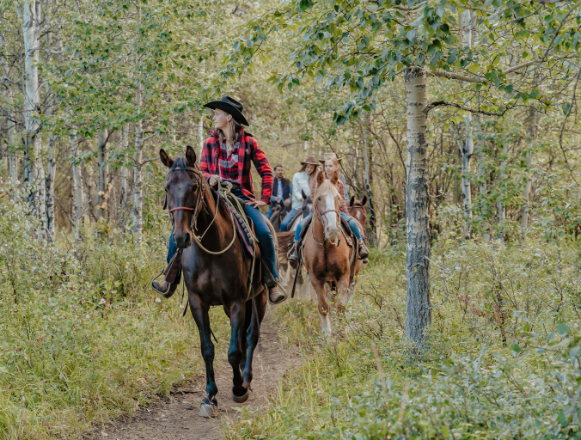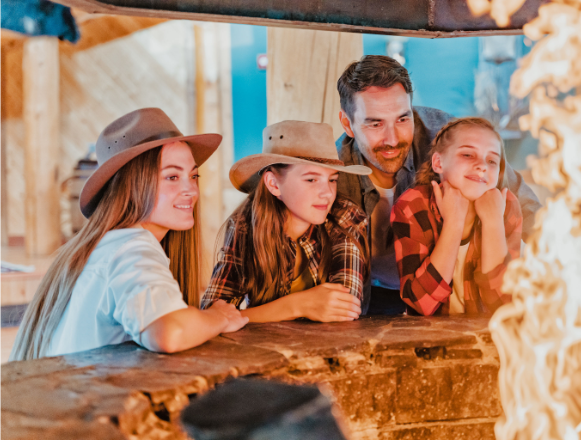 All
facilities
at Boundary Ranch are authentically themed for a traditional western experience for banquets, groups, meetings, parties, tours, weddings and much, much more! With three distinct spaces available and patios and picnic areas adjacent to most buildings and activity areas, the facilities at Boundary Ranch offer everyone the chance to relax and enjoy or to join in the action!
Boundary Ranch provides a variety of
activities
including guided trail rides, teambuilding programs, horse-drawn wagon or sleigh rides, dogsledding, bus hold-ups, gunfights, line dancing, Wild West Rodeos, and much more. We are fortunate to have many wonderful partners in the area that allow us to offer off-site activities such as heli-sightseeing tours, white water rafting, mountain biking, coaster biking, alpine hiking, photo safaris, fishing, and golf. Activities at Boundary Ranch operate year round, though specific activity options may be seasonal.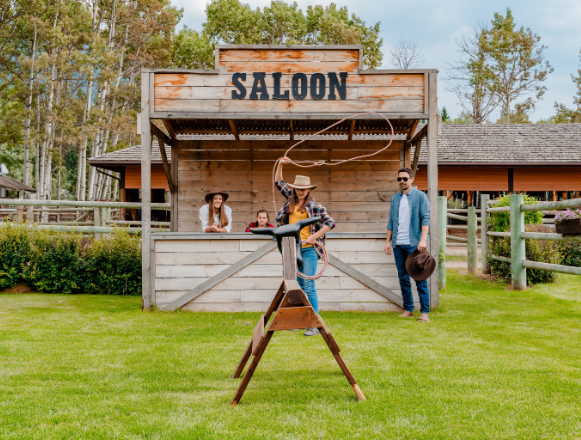 Jennifer
Hunter Valley, Australia
Great location, great food, very friendly staff. Will definitely recommend to family and friends.
The Nappers
Ontario
We had so much fun. My kids had never been on a horse before and they loved it. Thank you so much for such a good time.
The Greets
Belgium
Great trip, beautiful view, friendly people, nice horses. We enjoyed it here! Thank you.
Kelsey & Brian Atamanchuk
Beaumont, AB
We had tons of fun, great horses and great scenery.
Linda Hunter
England
Great ranch, Great food, Great people!
Thornton Family
Antler Lake, AB
Fantastic family experience. Thank you!!
Maggie
Queensland, Australia
A truly magical place!
Angela Hockley
Calgary, AB
This is a perfect way to spend a fall morning!
Daniel and Simonne Fraser
Blackstone, MA, USA
Loved this place so much!!
Foley Family
This is a perfect getaway from the city for a family day!
Sam Prior
Thanks to all at Boundary Ranch for a great holiday (vacation). We come from Montreal, Quebec not knowing what to expect and we had a real rocking holiday (vacation to you dudes).
Stephane Cote
Can't wait to go ride your beautiful horses again.
Brian Norg
What a wonderful experience! Did the 2 hr ride, was a great mix of level and tricky trail riding with great scenery. Loved the great steak lunch after the ride. Great job done by all!
Radu Luchian
Great beginner horseback riding experience. The horses are well behaved, the staff is friendly and accommodating, food's great. The trail, however, is mostly on forested paths, with only one clearing available to admire the wonderful mountain views; there's no freeriding available, even in the corrall; if you want to hear the running commentary from the trail leader, you need to be in the front 2-3 positions.
Arash Zarimani
This is a very easy to find ranch and it is very clean and well organized. We did a full day trip with our guide, Nick. The trail and the views were breath taking. We were able to see deers and also some grouse birds. I highly recommend this ranch to all people regardless of your riding experience.