THE HISTORY OF BOUNDARY RANCH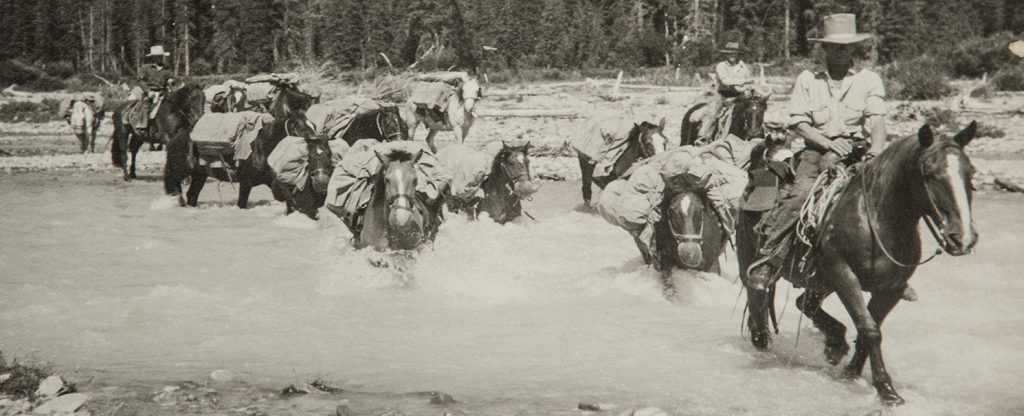 T
he Guinn Family history actually begins at another beautiful property in the Municipal District of Bighorn. Herbert Alonzo 'Soapy' Smith together with his wife Eva Alice Coates (Rick Guinn's mother) first established Rafter Six Ranch as a horse ranch offering guiding services.
'Soapy' registered the Rafter Six horse brand, which was placed on the horse's right shoulder, in 1914. He maintained ownership of the brand until his death in 1948 and then the ownership resurfaced with Alvin Guinn in 1954. Alvin Guinn, who was raised in the Bow River valley and who worked for Brewster Tourism in Banff, was one of Soapy Smith's primary ranch hands and served as a Rocky Mountain guide for pack horse trips from the 1920s to 1950s. He would later marry Eva Smith (née Coates), following the death of Soapy Smith. Alvin and Eva raised four children: Michael from her marriage with Soapy and their three children Shannon, Colleen, and Rick.
Rafter Six Ranch is as an important icon of the early development of cowboy tourism, and lure of the Canadian Rockies. The ranch's association with legendary horseman and big game hunting guide, Alvin E. Guinn (1915-2006), who with Eva, capitalized on this development in the 1950s to 1970s. This period of growth marks the ranch's "golden years" of development, and symbolizes the growing importance of tourism in the Rocky Mountains.
It was in the 1930's that Guinn Outfitters began a rich legacy. Long before Kananaskis Country was recognized as a destination the Guinn family was riding and guiding the same trails used today.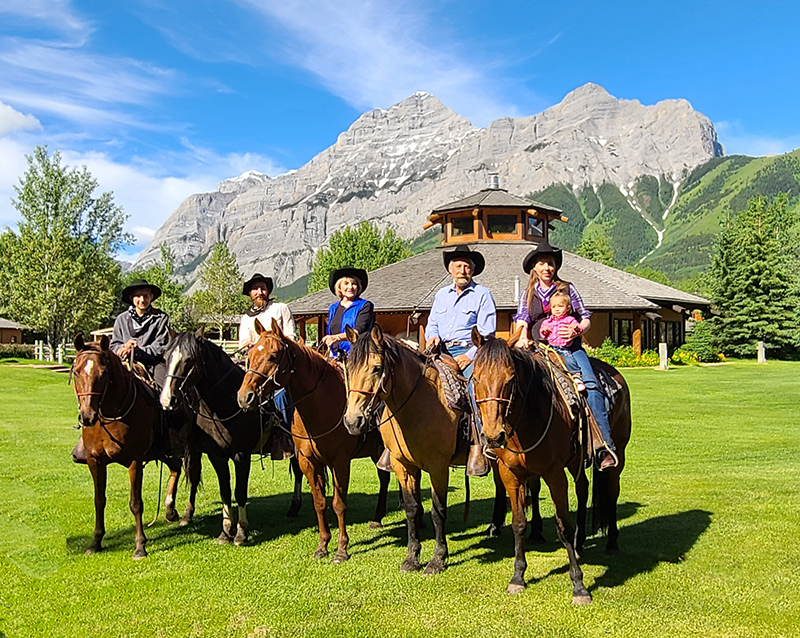 The Guinn Legacy began when Alvin Guinn rounded up wild horses in what is now known as the Kananaskis Range of the Canadian Rocky Mountains.  He gathered the wild horses on the present day site of Boundary Ranch before taking them through the mountains to his home ranch in Seebe, Alberta. Today, the original corral still stands on the Boundary Ranch property. During hunting season, Alvin was the first Outfitter to take a pack string from Galatea up over the mountain to Ribbon Lake.  This route has officially been named "Guinn`s Pass" and is a popular hiking trail.
Boundary Ranch was established in 1987 as Kananaskis Country was in the early stage of development. The name Boundary Ranch was chosen because the location is on the boundary line between the previous Provincial Forestry area and the original Federal Forestry Experimental Station. The Guinn's first summer of operation involved them living and managing the business from trapper tents and teepee's and a small corral with only 15 horses. Still family operated, Boundary Ranch has grown and developed over the years, always with a hands on approach with emphasis on great western hospitality along with a strong connection to history and tradition. Today we have approximately 100 head of horses; a small herd of buffalo; one donkey, Iggy and one mule, Idget.
Boundary Ranch and Guinn Outfitters continue to welcome and share special wondrous places with guests from around the world now and for many years to come.
With over 85 years of experience in mountain horseback riding and guiding in the Canadian Rocky Mountains, we will ensure your valuable holiday time will be a safe, authentic and memorable experience for you to treasure forever.
We look forward to adding you to our history, with one of our adventures and your signature in our Guest Book!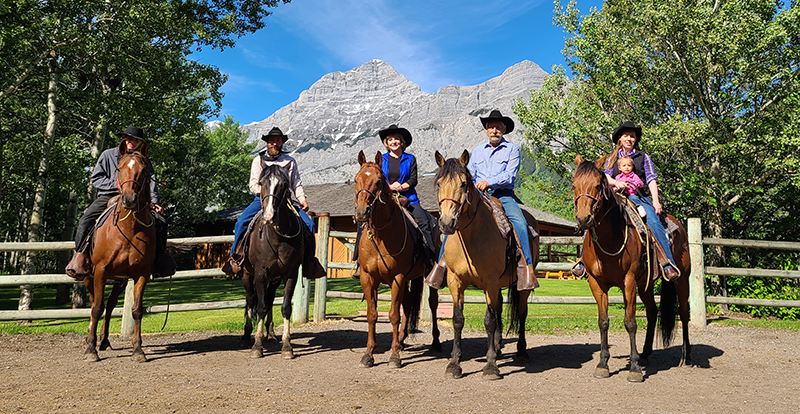 Tripadvisor Traveler Rating
Tripadvisor Ranking
#1 of 15 Sights & Landmarks in Kananaskis Country
Recent Traveler Reviews

"Family Day Sleigh Ride"

"Great friendly service, great view of mt..."

"Winter Sleigh Ride"

"Sleigh Ride"

"Great sleigh ride"
Jennifer
Hunter Valley, Australia
Great location, great food, very friendly staff. Will definitely recommend to family and friends.
The Nappers
Ontario
We had so much fun. My kids had never been on a horse before and they loved it. Thank you so much for such a good time.
The Greets
Belgium
Great trip, beautiful view, friendly people, nice horses. We enjoyed it here! Thank you.
Kelsey & Brian Atamanchuk
Beaumont, AB
We had tons of fun, great horses and great scenery.
Linda Hunter
England
Great ranch, Great food, Great people!
Thornton Family
Antler Lake, AB
Fantastic family experience. Thank you!!
Maggie
Queensland, Australia
A truly magical place!
Angela Hockley
Calgary, AB
This is a perfect way to spend a fall morning!
Daniel and Simonne Fraser
Blackstone, MA, USA
Loved this place so much!!
Foley Family
This is a perfect getaway from the city for a family day!
Sam Prior
Thanks to all at Boundary Ranch for a great holiday (vacation). We come from Montreal, Quebec not knowing what to expect and we had a real rocking holiday (vacation to you dudes).
Stephane Cote
Can't wait to go ride your beautiful horses again.
Brian Norg
What a wonderful experience! Did the 2 hr ride, was a great mix of level and tricky trail riding with great scenery. Loved the great steak lunch after the ride. Great job done by all!
Radu Luchian
Great beginner horseback riding experience. The horses are well behaved, the staff is friendly and accommodating, food's great. The trail, however, is mostly on forested paths, with only one clearing available to admire the wonderful mountain views; there's no freeriding available, even in the corrall; if you want to hear the running commentary from the trail leader, you need to be in the front 2-3 positions.
Arash Zarimani
This is a very easy to find ranch and it is very clean and well organized. We did a full day trip with our guide, Nick. The trail and the views were breath taking. We were able to see deers and also some grouse birds. I highly recommend this ranch to all people regardless of your riding experience.