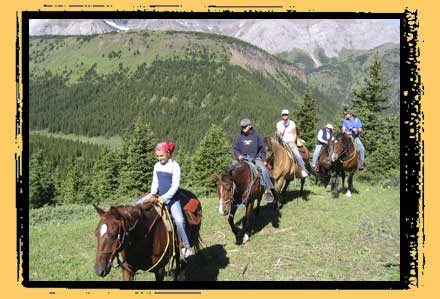 Boundary Ranch offers a variety of trail rides to suit every guest. From the Lodgepole Loop, a scenic one-hour ride to The Adventure Ride, a full-day ride with trail lunch, there is something for everyone. You can combine a ride with a great barbeque lunch – a great way to experience Kananaskis Country!
Buffalo Loop
(one hour) $56.00
A great introduction to our riding terrain travelling through wooded trails, past picturesque ponds with the Kananaskis Range towering against the blue Alberta skies.
Ridge Ride
(two hours) $96.00
This ride travels high above the valley to capture a breathtaking view of the entire Kananaskis area. Watch carefully as you wind your way down around the pond; you might catch a glimpse of our resident moose and her calf sunning themselves!
Trail Blazer
(three and a half hours) $145.00
A combination of all our trails in the beautiful back country surrounding the Ranch. Our wranglers call this one the mystery tour! We pack a snack just in case it takes longer than the scheduled 3.5 hours.
Overnight Pack Trips are also available.
If you are interested in a Pack Trip with Boundary Ranch, please call us for additional information and reservations. The Pack Trip season runs from Mid-June to Mid-September.
Reservations are required for all rides; call 1-877-591-7177. The above rates are per person and do not include GST. A minimum number of riders are required for rides longer than one hour, please inquire when making your booking.