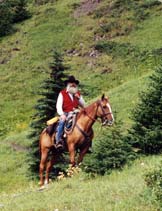 Trail Rides
Ride the Canadian Rockies in the backcountry surrounding Boundary Ranch. Some of the most spectacular and scenic trails in Alberta are right here for all to enjoy. The trails provide great scenic shots as well as the opportunity of spotting deer, moose and elk! All group rides are customized to fit the needs of your group, and are walking, guided trips suitable for total novices and experienced riders.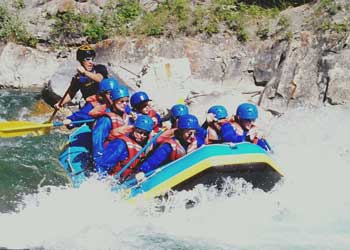 Surf & Saddle
This full day adventure package is one of the best group events to stage! Trail Ride, Barbeque Steak Lunch and White Water Rafting. This package gives excellent value; two adventure activities and a great steak lunch, all combined in one day to give your group a wonderful Kananaskis Country Experience.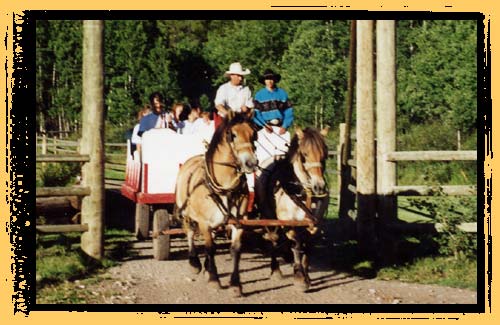 Hay Rides & Sleigh Rides
Group hayrides on horse-drawn wagons are a big part of the Kananaskis Country experience! Wagons in summer and sleighs in winter accommodate twenty people at a time and travel the scenic trails surrounding the ranch. In winter, sleighs can be arranged to travel the trails at the Kananaskis Village Resort.
Back Country Meetings
Imagine a back-country management retreat or team building meeting, while doing one of our two to five-day pack trips. This would be a rare occasion to enjoy the spectacular mountain scenery of the back-country while planning, discussing or just plain visiting in the open spaces of the great outdoors, without interruption.