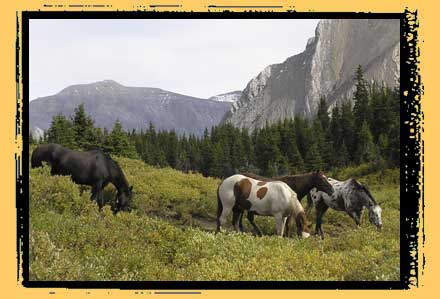 Thank you for your interest in Boundary Ranch Pack Trips. Whether you're an experienced rider or have never been on a horse before, we offer a range of trips that accommodate everyone from the young and inexperienced to the veteran horseman. Our trips are still run in the traditional manner that Alvin Guinn started in the 1930s, with personable, experienced staff plus a few more modern comforts. Boundary Ranch and the Guinn family are committed to the conservation and preservation of the wilderness areas surrounding the ranch and to the opportunity to preserve the ongoing tradition of guiding and outfitting guests wishing to experience our beautiful area. Whether you're on a short two-day sampler or a longer adventure, the spectacular mountain views, fresh air and tranquility are sure to inspire you. Join us for an unforgettable journey into the heart of the Canadian Rockies.
Happy Trails,
Rick & Denise Guinn
Owners and Operators of Boundary Ranch

RELEASE OF RESPONSIBILITY
All riders are required to sign a release waiver. It is recommended that each person has personal insurance coverage. There will be no refunds for trips already in progress. We are not responsible for delays or cancellations due to poor weather conditions, restrictions or other factors we cannot control. You will be responsible for the cost of the helicopter evacuation for medical or personal reasons should it be necessary.
OTHER INFORMATION
TRANSPORTATION
Group transportation from Calgary is available at an extra charge. Shuttle service to Kananaskis Village is available from the Calgary International Airport, downtown Calgary and Banff. Regular taxi service is also available. Transportation from Kananaskis Village to Boundary Ranch is available at 9:00 a.m. on the day of trip departure, and back after your return.
ACCOMMODATION
Accommodation for pre and post-stays is available in the nearby hotels and campgrounds of Kananaskis at reasonable rates. If you prefer, there are excellent Bed and Breakfast establishments in Canmore, just outside Banff National Park. There are also several campgrounds and R.V. Parks nearby. Give us a call for details or check out the regional accommodation directory on www.albertaskananaskis.com.