Kananaskis Country Adventures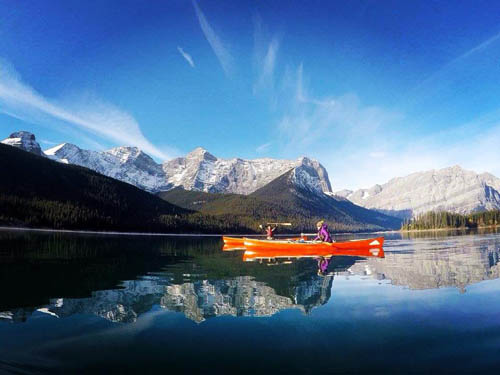 Boundary Ranch is fortunate to collaborate with many wonderful partners through Adventure Hub which allows us to offer several fantastic off-site activities.
Hiking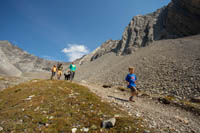 Whether you are looking for a short hike to acquaint yourself with mountain terrain or a full-day adventure to explore remote destinations, our guides are available to navigate you through the diverse natural environment surrounding Boundary Ranch. Guided interpretive hikes are available for a variety of ability levels to several points of interest or to investigate the ecosystem and habitats in the area. Join us for alpine wildflower meadows, sparkling streams, spectacular mountain vistas, and opportunities to view local wildlife.
Rock Climbing
Explore the incredible rock formations in the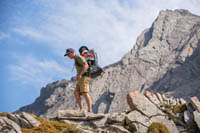 area with this hands-on experience. Learn about basic safety and techniques for climbing outdoors on a real mountain rock face. Feel accomplished as you reach towards the achievement of your personal climbing goals. Suitable for climbers of all skill and experience levels.
Caving
Engage in a close-up exploration of the rock formations in the area. Hike, climb, repel, and crawl underground to investigate local geology and ancient cave formations.
Canoeing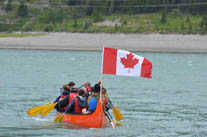 Enjoy a day of paddling on one of Kananaskis' crystal blue lakes. Start off with a simple paddling lesson close to shore then embark on a journey on the open water. Learn about the history of this scenic area and its majestic lakes. Traditional two-person as well as Voyager Canoeing are available.
Mountain Biking
Experience the excitement of mountain biking on the trails surrounding Ribbon Creek with our experienced guides. Suitable for novice to experienced bike riders. Program includes safety orientation, bike rental, and helmet.
Heli-Sightseeing and Heli-Hiking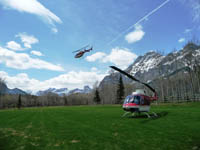 An excellent introduction to helicopter flights for the first time flyer to the Canadian Rockies. Your journey will take you to new heights and you will see high mountain peaks, alpine meadows, and pristine lakes. Heli-hiking adventures range from a 15-minute flight and 3 hour guided hike to 25-minute sightseeing tour with a 3-hour hike. Private or group hikes with a guide are provided.
Yoga
The fresh air and spectacular mountain views will inspire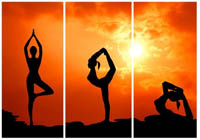 as you revive your body, mind, and spirit. Let the peaceful surroundings melt away any stresses you may have and indulge yourself in the serenity of the moment.

NATURALLY BOLD. FOR THE BRAVE. SET WITHIN THE ELEMENTS. AN ALPINE SANCTUARY.

Spanning 50,000 sq. ft. of contemporary indoor-outdoor space, Kananaskis Nordic Spa features five outdoor pools, six steam and sauna cabins, an exfoliation room, and a salt-water float pool. The outdoor relaxation areas feature heated hammocks, fireside lounges, a meditation labyrinth, and heated lounge chairs with personal music stations. Lastly there is a dream lounge, eight indoor treatment rooms, a Wellness Bistro, as well as a 30-person yoga studio, complete with silk yoga hammocks.

Each group is unique, so please contact us to customize your visit. We can arrange all activity bookings with our partners.

Boundary Ranch operates year round, however some activity options may be seasonal. Please note that some activities have minimum or maximum participant numbers.

-->